2014 (31st Reunion) - Galt House in the heart of Louisville, KY (1-6 July 2014)

You can now reserve your hotel room for the Louisville Reunion at this link
You can also call Galt House Reservations at 800-843-4258 or 502-589-5200 (fax 502-585-9022)
Please note that you can book a Deluxe Room in the Rivue tower for $109 or a Suite in the Suite tower for $129.
Please check back to register for the reunion. We expect to have the online system available by early December.

The 2013 National Reunion Morning Report
War Stories and Historic Presentation Forums:
We now have new traditions at reunions presenting historic presentation forums of professional talks on Vietnam War topics and a more light-hearted War Story Contest where members tell their best stories for fun and glory. For more information about the events and the DVDs that are available go to 2006 DVD, 2007 DVD, 2008 DVD, 2009 DVD, 2010 DVD, 2011 DVD, 2012 DVD and 2013 DVD . These events are very popular so please let us know if you would like to participate.

Note to VHPA members: If you or someone you know has a relatively professional presentation on a topic of interest to VHPA members related to the Vietnam War, we encourage you to submit the information ASAP.

Missing Man Ceremony as done at the 2005 Reunion.

Future Reunions
| | |
| --- | --- |
| | 2014 (31st Reunion) - Galt House in the heart of Louisville, KY (1-6 July 2014) |
Past Reunions
| | |
| --- | --- |
| | |
| | |
| | Who We Are - Gary Roush's speech at the banquet 4 July 2010 at the San Diego Reunion. |
| | Helicopter ride at the 2010 reunion |
| | Pictures on the USS Midway from Walker Jones |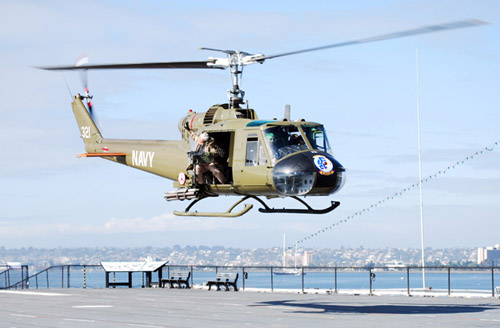 Wings&Rotors Huey landing on the USS Midway July 2010
2007 Reunion Information: Pictures from the Boeing Tour at the 2007 VHPA Reunion in Phoenix.
If you would like a higher resolution image of one of the pictures, please contact Gary Roush.

Reunion 2002 pictures

Selection of pictures from Gary Roush

Reunion 2001 pictures

2001 Reunion pictures from Jim Koch
Tandem Rotor Mini from Brian Foote
Mobile Officer's Club from the California Chapter North from Ray
Men with three tours or more in Vietnam from Ray
Wonder Woman from Ray

Reunion 1999 pictures
VHPA Reunion 99 pictures
VHPA A/2/17 CAV Reunion 99 pictures
Unit Reunions



Send information to the Webmaster to be posted here.