The 2015 Reunion will be at the Washington Marriott Wardman Park hotel, Washington D.C. (24 - 30 Aug 2015).
To register for the reunion, go to https://reunion.vhpa.org/
To book a room at the hotel, go here. Rooms are $119 plus tax. Instructions for hotel booking are here. Please note: you also have to register for the reunion with the VHPA at https://reunion.vhpa.org/
Volunteer schedule. Your chance to give back to the reunion. Volunteer form to fill out.
Mini Reunion Request Form. Available time slots for TOCs and Mini Reunions plus schedule
Schedule of Events summary and full schedule
Everything you need to know about the 2015 reunion
The reunion issue of The VHPA Aviator
The updated Annual Reunion Registration, Cancellation, and Refund Policy as of November 2014.
The United States Army Black Aviator Association (USABAA) is co-locating their annual meeting with the VHPA in Washington, DC. For more about the association, go to http://www.usabaa.info/

The 2015 National Reunion Morning Report
The following have qualified to run for office during the 2015 Annual Business Meeting:
Vice President:
John A. Shafer

Junior Member at Large:

Arthur R. (Art) Jacobs
William J. (Moon) Mullen

From the VHPA President, Bob Hesselbein:
As you can see from this update on the Arlington National Cemetery Memorial, we are making progress.
By the time the Aviator arrived to your door, it became clear pressure would have to be also placed on the Secretary of the Army, John M. McHugh to move the memorial forward. Here is a recent letter sent to him by Congressman Joseph J. Heck.
Here is the Power Point presentation used at the recent meeting with the Arlington National Cemetery (ANC) Advisory Committee. Feel free to use this in dealing with your representatives in DC.
Here is a suggested letter for you to send to your congressman and senator supporting our monument in Arlington National Cemetery (ANC).
A wave of resistance to new memorials anywhere in the Washington area has arisen as residents want their green areas sustained as parks, not memorial space; in the case of ANC, the managing elements want all possible space reserved for graves, not monuments, as they forecast the cemetery being fully occupied by 2050.
We must carry this rightful fight forward. Just like we persistently accomplished our missions in Vietnam, we will accomplish this task in Washington, DC.
Thank you for moving the mission forward,
Bob

War Stories and Historic Presentation Forums:
We now have new traditions at reunions presenting historic presentation forums of professional talks on Vietnam War topics and a more light-hearted War Story Contest where members tell their best stories for fun and glory. For more information about the events and the DVDs that are available go to 2006 DVD, 2007 DVD, 2008 DVD, 2009 DVD, 2010 DVD, 2011 DVD, 2012 DVD and 2013 DVD . These events are very popular so please let us know if you would like to participate.

Note to VHPA members: If you or someone you know has a relatively professional presentation on a topic of interest to VHPA members related to the Vietnam War, we encourage you to submit the information ASAP.

Missing Man Ceremony as done at the 2005 Reunion.

Future Reunions
| | |
| --- | --- |
| | 2015 - Washington Marriott Wardman Park, Washington D.C. (24 - 30 Aug 2015) |
| | 2016 - Peppermill Hotel, Reno, NV (6 - 10 July 2016) |
| | 2017 - JW Marriott Hotel, Indianapolis, IN (2 - 6 July 2017) |
Past Reunions
| | |
| --- | --- |
| | |
| | |
| | Who We Are - Gary Roush's speech at the banquet 4 July 2010 at the San Diego Reunion. |
| | Helicopter ride at the 2010 reunion |
| | Pictures on the USS Midway from Walker Jones |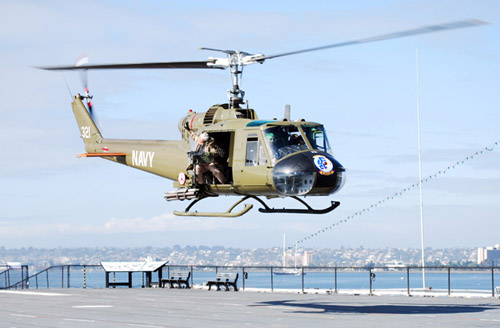 Wings&Rotors Huey landing on the USS Midway July 2010
2007 Reunion Information: Pictures from the Boeing Tour at the 2007 VHPA Reunion in Phoenix.
If you would like a higher resolution image of one of the pictures, please contact Gary Roush.

Reunion 2002 pictures

Selection of pictures from Gary Roush

Reunion 2001 pictures

2001 Reunion pictures from Jim Koch
Tandem Rotor Mini from Brian Foote
Mobile Officer's Club from the California Chapter North from Ray
Men with three tours or more in Vietnam from Ray
Wonder Woman from Ray

Reunion 1999 pictures
VHPA Reunion 99 pictures
VHPA A/2/17 CAV Reunion 99 pictures
Unit and Related Reunions
The 170

th

Aviation Company, Assault Helicopter, "the Bikinis' will have a unit reunion at the Embassy Suites, Airport, St Louis, MO: October 23-25, 2015.

POC is Henry Winther, 847 546-7186, dachskreiger@yahoo.com
Send information to the Webmaster to be posted here.