Search this site.

.

The 2017 VHPA national reunion will be in Indianapolis, IN 1 - 6 July 2017 at the JW Marriott Hotel, 10 S. West Street, Indianapolis, IN.

Register for the reunion at https://reunion.vhpa.org/ as is our tradition, registration became active on 15 December.



For hotel reservations, please call Passkey Reservations: 866-704-6162 or 877-303-0104
Mention "VHPA 34th Annual Reunion 2017"

or online at https://resweb.passkey.com/go/VHPAIndy

PLEASE DO NOT CALL THE HOTEL DIRECTLY OR MARIOTT'S CENTRAL RESERVATIONS NUMBERS.

Room rates are $119 + tax over these dates of 27 June – 8 July 2017
(Cutoff date for VHPA hotel rate is June 1, 2017)
Parking:
The VHPA hotel parking discount is 20% off of $43 per day or about $35. Parking is very limited around the hotel and government buildings nearby so we have negotiated better rates with a nearby parking lot called GATE TEN parking. Please see the
attached flyer for details
. So if you need access to your vehicle frequently during the day - parking in the underground hotel parking garage might be right for you but plan on about $35 per day. Everyone else should consider
GATE TEN
. It is within walking distance for most people but they also have a shuttle. Additionally, they offer discounts off their daily rate based on the number of days. Notice you could even park an RV there!!
New Gate10 Cookout 3 July 4pm - 7pm. All you can eat $5 each.
Recommended shuttle service to and from the airport to the hotel is GO Express Travel Select the Go Green downtown Indy Express for $10 one way.
Official Schedule for the 2017 reunion in Indianapolis.
Everything you need to know about the 2017 Indianapolis reunion.
Getting there and other reunion details
Here are maps for the city center and shuttle movements. If you miss a shuttle or just want to get around using a taxi, here is information on their special taxi $5 city center fare.
Welcome to Indy Coupons for special discounts and prices at restaurants, shopping, tours and performing arts.
Discount zoo tickets have to be ordered online as described in this brochure.
Reunion details in our magazine, The VHPA Aviator, the January/February 2017 reunion issue (big file).
Reunions are a great opportunity to meet with your unit or flight class group away from the masses. We provide dedicated private space for your reunion within the reunion. To reserve space please use this Mini Reunion request form and Mini Reunion Schedule
We need Volunteers! Each year we rely very heavily on volunteers to help with the reunion. If you are able and willing to help, please fill out a Volunteer Form Here is the Volunteer Schedule.
NEW!! Ride at a Gallop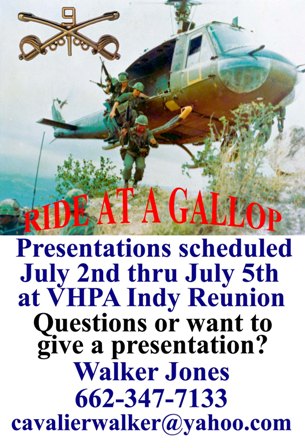 Added to the reunion schedule in early April, Ride at a Gallop is a collection of historical presentations, DVD showings, and seminar type discussions given over a multiple day period primarily for those who served in or have interests in the 1/9th Cavalry in Vietnam. In addition to having a dedicated hospitality room (3rd floor room 306) for the duration of the Reunion from 1 pm until about 4 pm daily, the VHPA will provide a section of the main ballroom to the 1/9th Cav for PowerPoint presentations, showing video clips, and having focused discussions. This area is open to anyone attending the Reunion and can accommodate 500 if needed. The goal is several short (15 - 25 minute) sessions each day and to let each troop have at least one slot per day. Here is a summary of Ride at a Gallop activities
Walker Jones is in charge of the Ride at a Gallop activities. Please contact Walker at 662-347-7133 or cavalierwalker@yahoo.com if you have something to contribute to these activities.
These activities are free and everyone is invited to attend. This is NOT limited to pilots. All are welcome to attend. All you have to do is register for the reunion. Here is an invitation to Ride at a Gallop.
Click here for a comprehensive packet of Ride at a Gallop activities and information This includes all you need to know to register for the reunion. We hope to see you there.
2017 Vendor, Book Seller & Exhibitor Information
RV Parks near the JW Marriott Hotel
Annual Reunion Registration, Cancellation and Refund Policy.

The 2017 National Reunion Morning Report

War Stories and Historic Presentation Forums:
We now have new traditions at reunions presenting historic presentation forums of professional talks on Vietnam War topics and a more light-hearted War Story Contest where members tell their best stories for fun and glory. For more information about the events and the DVDs that are available go to 2006 DVD, 2007 DVD, 2008 DVD, 2009 DVD, 2010 DVD, 2011 DVD, 2012 DVD and 2013 DVD . These events are very popular so please let us know if you would like to participate.

Note to VHPA members: If you or someone you know has a relatively professional presentation on a topic of interest to VHPA members related to the Vietnam War, we encourage you to submit the information ASAP.

Missing Man Ceremony as done at the 2005 Reunion.
Future Reunions
| | |
| --- | --- |
| | 2017 - JW Marriott Hotel, Indianapolis, IN (2 - 6 July 2017) |
| | 2018 - Atlanta Marriott Marquis, Atlanta, GA (3 - 8 July 2018) |
| | 2019 - The Kansas City Marriott Downtown, Kansas City, MO (May 2019) |
Past Reunions
| | |
| --- | --- |
| | |
| | |
| | |
| | |
| | Who We Are - Gary Roush's speech at the banquet 4 July 2010 at the San Diego Reunion. |
| | Helicopter ride at the 2010 reunion |
| | Pictures on the USS Midway from Walker Jones |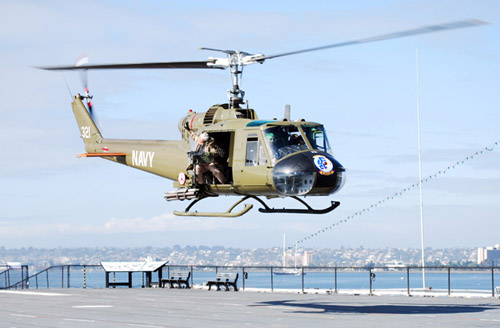 Wings&Rotors Huey landing on the USS Midway July 2010
2007 Reunion Information: Pictures from the Boeing Tour at the 2007 VHPA Reunion in Phoenix.

Reunion 2002 pictures

Selection of pictures from Gary Roush

Reunion 2001 pictures

2001 Reunion pictures from Jim Koch
Tandem Rotor Mini from Brian Foote
Mobile Officer's Club from the California Chapter North from Ray
Men with three tours or more in Vietnam from Ray
Wonder Woman from Ray

Reunion 1999 pictures
VHPA Reunion 99 pictures
VHPA A/2/17 CAV Reunion 99 pictures
Unit and Related Reunions
Black Cats Reunion 2017

This reunion will be held April 16-20 at:
Sheraton Fisherman's Wharf
2500 Mason St
San Francisco, CA 94133

Reservation: (888)627-7024–Reference: 213th Assault Helicopter Reunion Room Block.

121st Aviation Company Reunion

A reunion of all Veterans who served in the US Army with the 121st Aviation Co. (AML), 121st Assault Helicopter Co., 93rd Transportation Co. (Lt. Hel.) (known as the World Renown Soc Trang Tigers and Vikings), 80th Trans. Det. (Avn. Maint.) and all other attached and supporting units will be held in Tucson, Arizona on April 18 – 20, 2017. Everyone who served with these units in Da Nang and Soc Trang RVN 1961 through 1970 is invited and encouraged to attend. Families are also invited.

The Reunion is being hosted by the members of the 121 Avn Association, Inc. Details of the reunion and hotel information may be found on their web site: 121avn.org or by contacting secretary John Schmied: johndschmied@yahoo.com or call 352-633-0541. Please call between 10:00 AM and 9:00 PM EST.

227th Assault Helicopter Battalion Reunion

The 227th Assault Helicopter Battalion 2017 reunion of Vietnam Veterans is scheduled for April 25th to 29th, 2017, at the Gaylord Opryland Resort & Convention Center, Nashville, Tennessee. All members, guests and friends of the 227th Assault Helicopter Battalion are invited to attend.

Details of the reunion and hotel information is available on our reunion website at: http://reunion.227ahb.org/
Howard Burbank

A/2/17 Reunion

A Troop, 2nd Squadron, 17th Cavalry, 101st Airborne Division Alumni Association

May 3-6, 2017

Crowne Plaza (Airport), 4831 Tanger Outlet Blvd, N., Charleston, SC 29418 - $129/night

Contact Military Reunion Planners account manager Leanne Casey at 817 251 3551 (casey@MilitaryReunionPlanners.com) or Alpha Troop Alumni Chairman Doug Doerr at 904 509 2814 (ddoer4uf@aol.com) for details and reservations. Or call the Crowne Plaza desk and mention the reunion for the appropriate discount (843 744 4422). More details on www.AlphaTroopAlumni.com

October 16-20, 2017 13th bi-annual 57th AHC (Gladiators & Coiugars) reunion. Includes 615th TC Det and 822nd Sig. At the New Orleans Hotel and Casino, Las Vegas, NV. Most arrive on the 15th. For more information or updating contact information contact Joe Sotille jsottille@gmail.com 602-284-6405 or Stan Steenbock ssteamer27@aol.com 985-373-3948 or unit historian Darrel Anthony darrell1@charter.net 864-607-8982 room rates $64 a night. See you there!

179th Assault Support Helicopter Company Chinook Reunion 2017 October 5-8 in Nashville, TN.

The reunion will be held at the Four Points by Sheraton, Brentwood, TN. Details and registration information are on the 179th website at the Reunion Info and Registration tabs, http://www.179thash.org/

The program is for pilots and crew members. It includes a bus trip to Fort Campbell to see the latest CH-47F models as well as a visit to the 160th Special Operations Aviation Regiment (SOAR).

Contacts: Stan Neckerman, 314-487-5384, sn1643@sbcglobal.net and Tom Messenger, 708-203-6096, tomlvsgolf@hotmail.com
Send information to the Webmaster to be posted here.