NEW! Second addition: Helicopter data was been updated in November 2007 and the CD now works with the Vista operation system.

Vietnam Helicopter History CD-ROM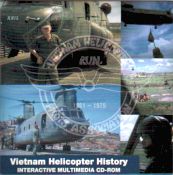 by Gary Roush, Database Committee

The VHPA has a renewed product that is the result of over 20 years of work by Gary Roush, Mike Law, Mike Sloniker and many others. It contains history not available anywhere else including the very popular helicopter incident and accident reports on nearly all of the 12,000 helicopters flown in the Vietnam War from all services. Do you only remember the last three of your tail number or bureau number? With this CD you can search on last three to find the full tail number. Remember the call sign but not the unit? You can search units by call sign and vice versa. Ever wonder when your unit did certain things? Many units have a list of historical events. Wonder about the history and flight time of your unit helicopters? Get a list of helicopters by unit and month to month gold book details on each helicopter. Wonder what happen to all the guys in your flight class? Get Army flight class lists with each members status as we know it today. Would you like to know more about KIAs then what is in the membership directory? Get complete helicopter flight crew KIA records. Can't remember what your MOS means? Look it up in the MOS database containing Vietnam era records for Army, Marine, Air Force and Navy. Making a trip to The Wall? Get a list of helicopter crew member KIAs by panel on The Wall along with a list of events taking place in that same time period.

The CD also contains samples of video and audio from the Vietnam War taken from home movies and live recordings. Remember monitoring three radios plus intercom? When you hear these recordings you will wonder how we did it. See burning Chinooks at Cu Chi right after a sapper attack from live action taken by a super 8 movie camera. Remember them? Also the CD contains 39 color helicopter pictures from past VHPA calendars suitable for printing or as wall paper on your PC.

Get the full text with pictures of histories compiled by Mike Sloniker on Lam Son 719, History of the 1972 Easter Offensive and this year's all new Helicopter Units North of Da Nang. These histories contain first person accounts as well as back ground and details about the activities of helicopter units normally left out of Vietnam War books.

Missing some past VHPA newsletters? The CD contains copies of nearly all VHPA newsletters back to 1993. Also, thanks to Leslie Hines, most of the Southern Cross publications from the Americal Division are on this CD and are full text searchable.

This is an exciting time with all the new technology available for making information available to the public in an inexpensive way. The CD-ROM technology provides an excellent medium for distributing our collection. We think you will find this new CD-ROM product the perfect gift for family and Friends. To offset development and production costs by Image Marketing in Tampa, FL, the Vietnam Helicopter History CD is being sold for $15 plus $5 shipping and handling to VHPA members and $25 plus $5 shipping and handling to non members. CDs for resale will be available to veteran organizations and museums for $15 each plus handling and shipping.

Order yours now by calling HQ on 800-505-VHPA(8472) or using this form.
Please note: The search feature does not work on Apple (McIntosh) computers.
Vietnam Helicopter History CD-ROM help file.