Search this site.
2020 Reunion registration is now open at https://reunion.vhpa.org/
2020 reunion brochure
General Reunion Information. The January/February 2020 VHPA Aviator magazine reunion issue.
The 2020 VHPA national reunion will be in Denver, CO
21 May - 24 May 2020 at the

Sheraton Downtown
1550 Court Place
Denver, CO 80202
Hotel reservations for the 2020 reunion can now be made as follows:
(PLEASE DO NOT CALL THE HOTEL DIRECTLY
or
SHERATON'S CENTRAL RESERVATIONS NUMBERS.)
You MUST speak to a Passkey Agent or register online at https://book.passkey.com/event/49900388/owner/3130/home
Passkey Reservations: (888) 627-8405 Mention "VHPA 37th Annual Reunion 2020"
$125 + tax over these dates of 18 - 26 May 2020
Cutoff date for VHPA hotel rate is 16 April 2020
RV Parks near the hotel.
NEW - 2020 Reunion registration is now open at https://reunion.vhpa.org/
Use this form to reserve a room for your mini-reunion: Mini-reunion registration
Vendor Contract Information
Vendors that have signed up for reunion 2019:
Acclaim Press (exhibitor) http://www.acclaimpress.com
American Huey 369 (exhibitor) http://americanhuey369.com/index.html
Friends of the Museum (exhibitor) https://www.nationalvnwarmuseum.org/
Rex Gooch (author) https://www.fifthcavalry.com/
Roy Mark (author) http://roymark.org/index.html
Tom Morrissey (author) http://tmorrissey.com/
Witness to War (exhibitor) https://www.witnesstowar.org/
Margaret Brettschneider (author) http://www.mjbrett.com/
Boots on the Ground (vendor) http://www.bootsontheground.org/
Mahogany Models (vendor) https://mahoganymodels.com/
PeaceTrees Vietnam (exhibitor) https://www.peacetreesvietnam.org/
Bill Reeder (author) https://www.facebook.com/WilliamReederJr/
Vietnam Archive (exhibitor) https://www.vietnam.ttu.edu/
Vietnam Battlefield Tours (exhibitor) http://vietnambattlefieldtours.com/



The 2020 National Reunion Morning Report

War Stories and Historic Presentation Forums:
We now have new traditions at reunions presenting historic presentation forums of professional talks on Vietnam War topics and a more light-hearted War Story Contest where members tell their best stories for fun and glory. For more information about the events and the DVDs that are available go to 2006 DVD, 2007 DVD, 2008 DVD, 2009 DVD, 2010 DVD, 2011 DVD, 2012 DVD and 2013 DVD . These events are very popular so please let us know if you would like to participate.

Note to VHPA members: If you or someone you know has a relatively professional presentation on a topic of interest to VHPA members related to the Vietnam War, we encourage you to submit the information ASAP.

Missing Man Ceremony as done at the 2005 Reunion.
Future Reunions
2020 - Sheraton Denver Downtown, Denver, CO ($125/night) Thursday - Sunday, 21 - 24 May 2020

2021 - The Westin Charlotte, Charlotte, NC ($129/night) Wednesday - Saturday, 30 June - 3 July 2021

2022 - Marriott Tampa Waterside, Tampa, FL ($129/night) Thursday - Sunday, 26-29 May 2022

Note from Art Jacobs, reunion committee chairman: The closing banquet will be on the evening of the last day listed above. Our group rate will be good for 4 days prior to and 2 days after the dates above. The membership must also know that we were able to negotiate the lowest room rates, banquet pricing, etc. by agreeing to the dates listed, and to have locked in $129 / night for a first class hotel in a destination city 3 and a half years out is an excellent deal (and we hope to do the same for 2023).
Past Reunions
| | |
| --- | --- |
| | |
| | |
| | |
| | |
| | Who We Are - Gary Roush's speech at the banquet 4 July 2010 at the San Diego Reunion. |
| | Helicopter ride at the 2010 reunion |
| | Pictures on the USS Midway from Walker Jones |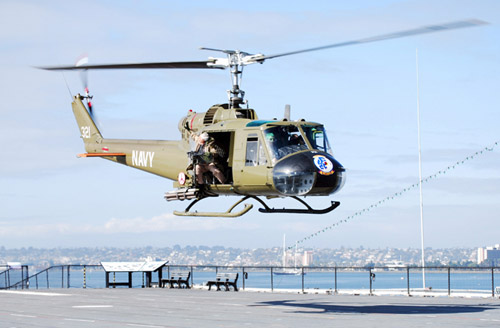 Wings&Rotors Huey landing on the USS Midway July 2010
2007 Reunion Information: Pictures from the Boeing Tour at the 2007 VHPA Reunion in Phoenix.

Reunion 2002 pictures

Selection of pictures from Gary Roush

Reunion 2001 pictures

2001 Reunion pictures from Jim Koch
Tandem Rotor Mini from Brian Foote
Mobile Officer's Club from the California Chapter North from Ray
Men with three tours or more in Vietnam from Ray
Wonder Woman from Ray

Reunion 1999 pictures
VHPA Reunion 99 pictures
VHPA A/2/17 CAV Reunion 99 pictures
Unit and Related Reunions
| | |
| --- | --- |
| | 227th Assault Helicopter Battalion Reunion |
The 227th Assault Helicopter Battalion 2020 reunion of Vietnam Veterans is scheduled for April 21st to 24th, 2020, at the Gaylord Opryland Resort & Convention Center, Nashville, Tennessee. All members, guests and friends of the 227th Assault Helicopter Battalion are invited to attend.
Details for our reunion, registration, and hotel information is available on our reunion website at: http://reunion.227ahb.org
Howard Burbank chickenman@a227ahb.org
121st Aviation Company Reunion

A reunion of all Veterans who served in the US Army with the 121st Aviation Co. (AML), 121st Assault Helicopter Co., 93rd Transportation Co. (Lt. Hel.) (known as the World Renown Soc Trang Tigers and Vikings), 80th Trans. Det. (Avn. Maint.) and all other attached and supporting units, will be held in Columbus, GA on April 30 – May 2, 2020. Everyone who served with these units in Da Nang and Soc Trang RVN is invited and encouraged to attend. Families are also invited.

The Reunion is being hosted by the members of the 121 Avn Association, Inc. Details of the reunion and hotel information may be found on their web site: 121avn.org or by contacting secretary John Schmied: johndschmied@yahoo.com or call 352-633-0541. Please call between 10:00 AM and 9:00 PM EST.

E Btry 82 arty 1st Cav. Vietnam is having a Reunion in Logan WV June 25th to June 30th All former Vietnams unit members and significant others are invited!
Why Logan WV?

Never heard of Logan? Well we have a day blocked out at the airport and you can (for the price of gas $400 an Hour) you can fly, yes I said FLY, a UH-1B, track down that old crew chief and have him in the back seat again. Cross off the dream that's been on your bucket list for the last 50 years. Aircraft will have a qualified Check airman in the front seat beside you for safety!

Contact is Tony Humphreys, (304) 634-5495, wdpckr27@aol.com
Send information to the Webmaster to be posted here.