Search this site.

.
The 2018 VHPA national reunion will be in Atlanta, GA 3 - 7 July 2018 at the Atlanta Marriott Marquis, 265 Peachtree Center Ave NE, Atlanta, GA 30303.

Reunion 2018 official schedule.

Reunion Registration is now open.

Here is General Reunion Information. Note: if an event is sold out, please provide your interest to HQ at HQ@vhpa.org so they can consider adding more capacity for that event.

To make reunion 2018 Hotel reservation:

PLEASE DO NOT CALL THE HOTEL DIRECTLY

or MARRIOTT'S CENTRAL RESERVATIONS NUMBERS.

You MUST speak to a Passkey Agent or register online at https://aws.passkey.com/go/VHPA

Passkey Reservations: (888) 789-3090 Mention "VHPA 35th Annual Reunion 2018"
$119 + tax over these dates of 1 July – 10 July, 2018
Cutoff date for VHPA hotel rate is 10 June, 2018

Where to park around the Marriott in Atlanta

Public transportation between the airport and downtown (hotel):
| | |
| --- | --- |
| | train (MARTA) from the airport to the hotel (note a two block walk inside) The price is $2.50 after hours. |
| | car/bus service. Rate is $22.50 per person use code VHPA for this special rate |
| | taxi rates are between $30 and $40 |
Show your reunion badge at hotel restaurants to get a 10 percent discount.
Things to do in downtown Atlanta
The Atlanta Visitor's Bureau has provided the VHPA with a special discount card and other discount offers.
2018 Reunion TOC and Mini-reunion Schedule. Mini-reunion Request Form.
Helicopter Rides: The Army Aviation Heritage Foundation Sky Soldiers will be providing Huey and Cobra Helicopter rides (weather permitting) for reunion attendees. Instructions and registration is only on the AAHF web site at https://armyav.org/2018-vhpa-convention/) Signing up for bus transportation is also available on the AAHF web page. Once there, paperwork and payment for any of the rides will be completed at the Hangar at Tara Field (Henry County Airfield – KHMP).
Reunion Volunteer Form and 2018 reunion Volunteer Schedule
Reunion 2018 Vendor, Book Seller, and Exhibitor Information
Annual Reunion Registration, Cancellation, and Refund Policy.

The 2018 National Reunion Morning Report

War Stories and Historic Presentation Forums:
We now have new traditions at reunions presenting historic presentation forums of professional talks on Vietnam War topics and a more light-hearted War Story Contest where members tell their best stories for fun and glory. For more information about the events and the DVDs that are available go to 2006 DVD, 2007 DVD, 2008 DVD, 2009 DVD, 2010 DVD, 2011 DVD, 2012 DVD and 2013 DVD . These events are very popular so please let us know if you would like to participate.

Note to VHPA members: If you or someone you know has a relatively professional presentation on a topic of interest to VHPA members related to the Vietnam War, we encourage you to submit the information ASAP.

Missing Man Ceremony as done at the 2005 Reunion.
Future Reunions
| | |
| --- | --- |
| | 2018 - Atlanta Marriott Marquis, Atlanta, GA (3 - 8 July 2018) |
| | 2019 - The Kansas City Marriott Downtown, Kansas City, MO (29 May - 1 June 2019) |
Past Reunions
| | |
| --- | --- |
| | |
| | |
| | |
| | |
| | Who We Are - Gary Roush's speech at the banquet 4 July 2010 at the San Diego Reunion. |
| | Helicopter ride at the 2010 reunion |
| | Pictures on the USS Midway from Walker Jones |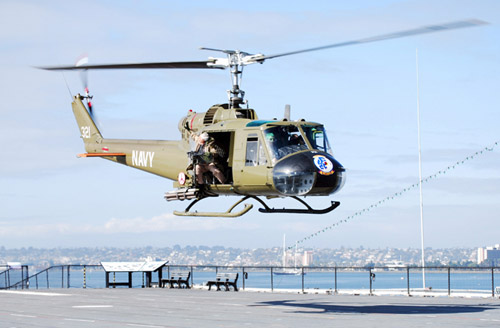 Wings&Rotors Huey landing on the USS Midway July 2010
2007 Reunion Information: Pictures from the Boeing Tour at the 2007 VHPA Reunion in Phoenix.

Reunion 2002 pictures

Selection of pictures from Gary Roush

Reunion 2001 pictures

2001 Reunion pictures from Jim Koch
Tandem Rotor Mini from Brian Foote
Mobile Officer's Club from the California Chapter North from Ray
Men with three tours or more in Vietnam from Ray
Wonder Woman from Ray

Reunion 1999 pictures
VHPA Reunion 99 pictures
VHPA A/2/17 CAV Reunion 99 pictures
Unit and Related Reunions
121st Aviation Company Reunion

A reunion of all Veterans who served in the US Army with the 121st Aviation Co. (AML), 121st Assault Helicopter Co., 93rd Transportation Co. (Lt. Hel.) (known as the World Renown Soc Trang Tigers and Vikings), 80th Trans. Det. (Avn. Maint.) and all other attached and supporting units, will be held in Williamsburg, VA on April 24-26, 2018. Everyone who served with these units in Da Nang and Soc Trang RVN is invited and encouraged to attend. Families are also invited.

The Reunion is being hosted by the members of the 121 Avn Association, Inc. Details of the reunion and hotel information may be found on their web site: 121avn.org or by contacting secretary John Schmied: johndschmied@yahoo.com or call 352-633-0541. Please call between 10:00 AM and 9:00 PM EST.


227th Assault Helicopter Battalion Reunion

The 227th Assault Helicopter Battalion 2018 reunion of Vietnam Veterans is scheduled for April 25th to 28th, 2018, at the Gaylord Opryland Resort & Convention Center, Nashville, Tennessee.

All members, guests and friends of the 227th Assault Helicopter Battalion are invited to attend. Details for our reunion, registration, and hotel information is available on our reunion website at: http://reunion.227ahb.org/ Howard Burbank


Darkhorse Reunion Reno, NV June 13 - 17


Former members of

Marine Helicopter Squadron HMH-462

who served in Vietnam in 1968-69 under the leadership of Colonel Ronald E. Nelson will be conducting a 50-year reunion September 27-28-29, 2018 at San Diego CA. Details are available at website

http://www.hmh462phubai.com/

or e-mail reunion coordinator Brian Taber at <

btaber13@yahoo.com

>.
Send information to the Webmaster to be posted here.