Search this site.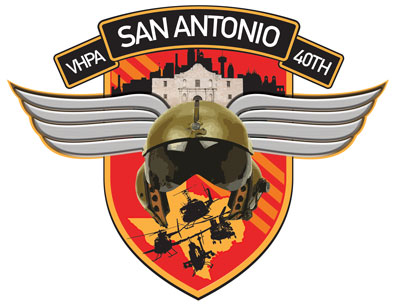 The VHPA 40th ANNUAL REUNION ~ SAN ANTONIO, TX
Sunday, 2 July, 2023 - Wednesday 5 July, 2023
Registration will open Monday morning:
3 April 2023 at 10:30am US Central
You can register for the reunion online using the VHPA's Online Reunion Registration Application website.
Information about unit and other related unions held throughout the year are available below.
We've added/updated the following information for the 2023 Annual Reunion:
Check back with the VHPA website for the most current Reunion information and details.
R2023 INFO TOURS HIGHLIGHTS
Morning Report
View the 2022 National Reunion Morning Report
Tours, Events and Highlights
View the 2023 Reunion Flyer with preliminary highlights.
New! Here is the Preliminary 2023 Reunion Schedule.
New! You will find everything you need to know in the 2023 Reunion Information handout
New! Book a Private Group Dinner Cruise at the San Antonio Reunion!
VHPA guests can book their own dinner cruise on the River Walk and have a private gathering with friends, unit and/or flight class at the 2023 Reunion.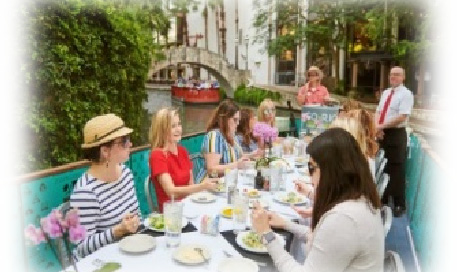 With many restaurants to choose from, GO RIO's Dinner Cruises are one of the most enjoyable experiences along the San Antonio River Walk. Food and beverages must be provided by a restaurant or catering company. You may not provide your own food.
All bookings are handled directly with the restaurant.
Visit GO RIO Dinner Cruises for more information and participating restaurants.
** VHPA HQ is not responsible for booking, con firming, or setting up private group events. **
Transportation
Airport Shuttle
SuperShuttle is offering VHPA guests discounted rides between the San Antonio International Airport (SAT) and any address in the Greater San Antonio area. SuperShuttle fares are Private Non-Stop rides that can range from $35 to $40 per car one-way.

Use VHPA Discount Code: KHC6Y.

To book visit: https://www.supershuttle.com/ or call: 1-800-BLUE-VAN (800-258-3826)
Train
San Antonio station hosts two Amtrak services; the tri-weekly Sunset Limited and the daily Texas Eagle. Four days a week, San Antonio is the southern terminus of the Texas Eagle, which originates in Chicago. Three days a week, the Texas Eagle joins with the Sunset Limited, continuing westbound to Los Angeles.

Visit amtrak.com for information, pricing, schedules and booking.
R2023 VOLUNTEER OPPORTUNITIES AND SCHEDULE
If you are interested in volunteering at the reunion, please print and send the completed R2023 Volunteer Form to HQ.
R2023 VENDOR INFORMATION
If you would like to sign up as a vendor, book seller or exhibitor for the 2023 VHPA national reunion, please download, read and complete the vendor form and mail to:
Vietnam Helicopter Pilots Association
1601 E Lamar Blvd, Suite 117
Arlington, TX 76011
RV PARKS NEAR MARRIOTT RIVERCENTER
Traveler's World RV Resort


(About 10 Minutes South of Marriott: 4 miles)
Rates:
Please contact park directly for current rates
Website:
https://www.suncommunities.com/community/travelers‐world‐rv‐resort/
Phone:
(210) 532‐8310
Address:
2617 Roosevelt Ave
San Antonio, Texas 78214

Here at Traveler's World, the buzz and excitement of downtown San Antonio is just a stone's throw away. Enjoy a wide selection of options for shopping, dining, and entertainment along the San Antonio Riverwalk. Brush up on your history at the Natural History Museum in nearby Bandera, at the Alamo Mission or at one of the many other museums in town. Reach the top of the 750‐foot Tower of America, or chase thrills at Six Flags. With our ideal location and easy access to major highways, the possibilities are endless.
Mission City RV Park


(About 10 Minutes Northeast of Marriott: 6 Miles)
Rates:
Please contact park directly for current rates
Website:
https://www.missioncityrv.com
Phone:
(210) 337‐6501
Address:
1011 Gembler Road
San Antonio, TX 78219

Mission City RV Park has its own city bus stop right out front! It can get you downtown to the world‐famous Riverwalk & Alamo and nightlife in just minutes! Our guests find that taking a ride on this convenient and highly‐rated bus system during their stay saves time and money! We offer great amenities like a newly renovated pool, completely remodeled restrooms and showers and a large on‐site laundry facility.
San Antonio/Alamo KOA Holiday


(About 10 Minutes Northeast of Marriott: 6 Miles)
Rates:
Please contact park directly for current rates
Website:
https://koa.com/campgrounds/san‐antonio/
Phone:
(210) 224‐9296
Address:
602 Gembler Road
San Antonio, TX 78219

Our KOA is the perfect location, with easy access to San Antonio's greatest attractions! Located just 10 minutes from historic downtown San Antonio, we offer convenience without the hassle of traffic and parking with the city bus picking up outside of our park entrance. Our KOA offers incredible amenities like a laundry area, cable TV, 50 Amp service sites, a convenient supple store, made‐to‐order Hunt Brother's Pizza and our Café breakfast on site.
Fort Sam Houston RV Park


(About 10/15 Minutes Northeast of Marriott: 10 Miles)
Rates:
Please contact park directly for current rates
Website:
https://www.jbsatoday.com/rv‐parks/
Phone:
(210) 221‐5502
Address:
4028 Petroleum Dr
Bldg. 3514
San Antonio, TX 78234

Camping doesn't have to be rough! FSH Family Campgrounds (FAMCAMP) offer great outdoor accommodations. The FSH FamCamp is located ten minutes from the heart of San Antonio and local attractions. The campground offers 74 sites with water, sewer, and electric. All sites are pull‐through on concrete slabs, plus a picnic table. The park has two facilities; each has a bath house/bathroom and laundry room. Must have military ID.
---
2020 & 2021 Reunion T-shirts: There are a few 2020 and 2021 reunion tee shirts left. To check availability and order, please call HQ on 800-505-VHPA(8472).
---
Missing Man Ceremony as done at the 2005 Reunion.
---
Future Reunions
| | |
| --- | --- |
| | 2023 - San Antonio Marriott Rivercenter, San Antonio, TX ($129/night) - Sunday, 2 July - Wednesday, 5 July 2023 |
| | 2024 - Nugget Casino Resort, Reno, NV ($99/night) - Tuesday, 14 May - Friday, 17 May 2024 |
---
Past Reunions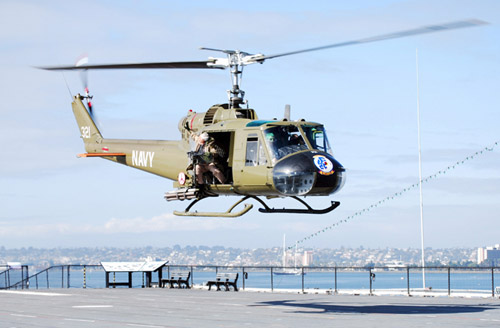 Wings & Rotors Huey landing on the USS Midway July 2010
Unit and Related Reunions
243rd ASHC "Freight Train" Annual Reunion
16-20 May 2023
Omaha, NE

Hosted By Jon and Ann Beckenhauer

All former unit members (Officers and Enlisted) are invited.

Hotel Information (Tuesday May 16 - Arrival & Check-in)

Cambria Hotel Omaha Downtown
740 North 14th Street, Omaha, NE 68102
https://www.choicehotels.com/nebraska/omaha/cambria-hotels/ne176
For reservations call (402) 218-1676 and request reservation operator to give you a room reserved for 243rd Freight Train Reunion or "Bunker Party"
Last day to make reduced rate ($111 per/night) reservations is April 14th

For questions and further information contact:

Jon Beckenhauer
703-216-8389
beckenhauerj@yahoo.com
Send information to the Webmaster to be posted here.