Search this site.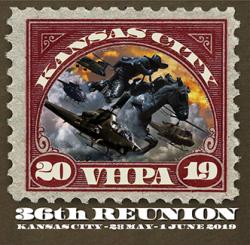 Reunion 2019 registration is now open at
https://reunion.vhpa.org/ Hotel reservations have to be made separately, see below.
2019 reunion brochure
General Reunion Information
Reunion schedule summary
The 2019 VHPA national reunion will be in Kansas City, MO
28 May - 1 June 2019 at the

Kansas City Marriott Downtown
200 West 12th Street
Kansas City, MO 64105
Hotel reservations for the 2019 reunion can now be made as follows:
(PLEASE DO NOT CALL THE HOTEL DIRECTLY
or
MARRIOTT'S CENTRAL RESERVATIONS NUMBERS.)
You MUST speak to a Passkey Agent or register online at https://book.passkey.com/go/vhpa2019
Passkey Reservations: (877) 303-0104 Mention "VHPA 36th Annual Reunion 2019"
$127 + tax over these dates of 23 May – 3 June 2019
Cutoff date for VHPA hotel rate is 26 April 2019
Reunion registration will be available in early January 2019. Please check https://www.vhpa.org/news.htm periodically for further updates as reunion plans are finalized.
Discounts on SuperShuttle transportation to and from the airport.
RV Parks near the reunion hotel.
Mini-reunion request form. TOC and Mini-reunion schedule.
Volunteers help make our reunions above the best. Please consider helping out with some of these events. To sign up please use this form.
Vendor, Book Seller and Exhibitor Information
Annual Reunion Registration, Cancellation, and Refund Policy.
Vendors that have signed up for reunion 2019:
American Huey 369 (exhibitor) http://americanhuey369.com/index.html
Friends of the Museum (exhibitor) https://www.nationalvnwarmuseum.org/
Rex Gooch (author) https://www.fifthcavalry.com/
Roy Mark (author) http://roymark.org/index.html
Tom Morrissey (author) http://tmorrissey.com/
Witness to War (exhibitor) https://www.witnesstowar.org/
Acclaim Press (exhibitor) http://www.acclaimpress.com


The 2019 National Reunion Morning Report

War Stories and Historic Presentation Forums:
We now have new traditions at reunions presenting historic presentation forums of professional talks on Vietnam War topics and a more light-hearted War Story Contest where members tell their best stories for fun and glory. For more information about the events and the DVDs that are available go to 2006 DVD, 2007 DVD, 2008 DVD, 2009 DVD, 2010 DVD, 2011 DVD, 2012 DVD and 2013 DVD . These events are very popular so please let us know if you would like to participate.

Note to VHPA members: If you or someone you know has a relatively professional presentation on a topic of interest to VHPA members related to the Vietnam War, we encourage you to submit the information ASAP.

Missing Man Ceremony as done at the 2005 Reunion.
Future Reunions
2019 - The Kansas City Marriott Downtown, Kansas City, MO (29 May - 1 June 2019)

2020 - Sheraton Denver Downtown, Denver, CO ($125/night) Thursday - Sunday, 22-25 May 2020

2021 - The Westin Charlotte, Charlotte, NC ($129/night) Wednesday - Saturday, 30 June - 3 July 2021

2022 - Marriott Tampa Waterside, Tampa, FL ($129/night) Thursday - Sunday, 26-29 May 2022

Note from Art Jacobs, reunion committee chairman: The closing banquet will be on the evening of the last day listed above. Our group rate will be good for 4 days prior to and 2 days after the dates above. The membership must also know that we were able to negotiate the lowest room rates, banquet pricing, etc. by agreeing to the dates listed, and to have locked in $129 / night for a first class hotel in a destination city 3 and a half years out is an excellent deal (and we hope to do the same for 2023).
Past Reunions
| | |
| --- | --- |
| | |
| | |
| | |
| | |
| | Who We Are - Gary Roush's speech at the banquet 4 July 2010 at the San Diego Reunion. |
| | Helicopter ride at the 2010 reunion |
| | Pictures on the USS Midway from Walker Jones |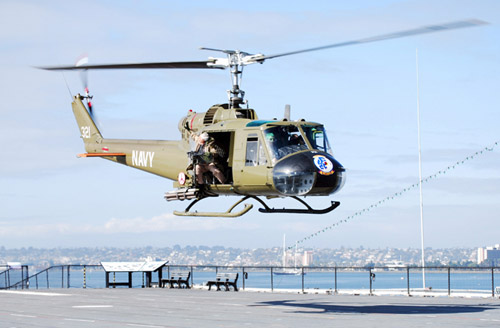 Wings&Rotors Huey landing on the USS Midway July 2010
2007 Reunion Information: Pictures from the Boeing Tour at the 2007 VHPA Reunion in Phoenix.

Reunion 2002 pictures

Selection of pictures from Gary Roush

Reunion 2001 pictures

2001 Reunion pictures from Jim Koch
Tandem Rotor Mini from Brian Foote
Mobile Officer's Club from the California Chapter North from Ray
Men with three tours or more in Vietnam from Ray
Wonder Woman from Ray

Reunion 1999 pictures
VHPA Reunion 99 pictures
VHPA A/2/17 CAV Reunion 99 pictures
Unit and Related Reunions

The 15th Medical Battalion Association (Medevac) will hold their next reunion in San Antonio, TX from 3-7 Apr 19. The host hotel is the Holiday Inn Market Square where they have a very generous contract. The hotel is providing a complimentary welcome reception on Wednesday evening, 3 Apr 19 (1700-1800) to include beer, wine, soft drinks, water, and chef's choice of 1 hot and 1 cold hors d 'oeuvres selection. The room rate is $99/night, which includes a complimentary hot buffet breakfast each day with each room in a private breakfast room.

HOTEL RESERVATIONS

Reservations are now open by calling 1-888-615-0725 and using group code MBA. This code may be used online as well at www.holidayinn.com/sat-downtown . If you require a handicap room you may view available rooms by clicking the box next to the wheelchair icon, which is just above and right of the first standard room availability.

For additional information visit their Web site at https://15thMedBnAssociation.org or contact Medevac2 (Baby Huey) at Medevac2@15thMedBnAssociation.org or call 830-997-9686.

227th Assault Helicopter Battalion Reunion

The 227th Assault Helicopter Battalion 2019 reunion of Vietnam Veterans is scheduled for April 13th to 16th, 2019, at the Gaylord Opryland Resort & Convention Center, Nashville, Tennessee. All members, guests and friends of the 227th Assault Helicopter Battalion are invited to attend.

Details for our reunion, registration, and hotel information will be available on our reunion website at: http://reunion.227ahb.org Howard Burbank chickenman@a227ahb.org


2019 Black Cat 12th Reunion

The 2019 Reunion will be in Philadelphia, Pa. Sunday May 5th thru Check-out Friday May 10th Lodging will be at the

Embassy Suites- PHL Airport

9000 Bartram Avenue

Philadelphia, PA 19153

215-365-4500

As of now we have 10 rooms blocked.

Please book early, we can block more rooms.

https://embassysuites.hilton.com/en/es/groups/personalized/P/PHLAPES-BLK-20190505/index.jhtml?WT.mc_id=POG

Complimentary 24/7 Airport Shuttle.

Check-in Sunday, May 5; Check-out Friday, May 10 (5 sleeping nights)




Parking – will be $10/day

Complimentary Made-to-Order Breakfast Daily with a Chef on property making specialty items at no additional charge

Complimentary Nightly Evening Reception from 5:30 PM - 7:30 PM offering complimentary beverages, alcoholic and non-alcoholic, as well as light snacks

Complimentary Wireless Internet

Complimentary 24/7 Airport Shuttle

24/7 Fitness Center on Property

Indoor Pool open from 8:00 AM ‐ 10:00 PM

May 8 we will have a tour of the Boeing Company to see how the CH-47 are built.

Please, if you would like to take the tour read the attachment on the tour. You must let Tom Mac Donald know, ASAP. Give him your name and wife's name if you plan to go. Tom must put you on the list early.

Tom Mac Donald

We will have a Hospitality Room 502, from May 5th thru May 9th, bring your Photo Albums from the 213th.

Su. May 5 Check-in.

Mo. May 6 Sightseeing.

Tu. May 7 Sightseeing.

We. May 8 Boeing Company Tour.

Th. May 9 Black Cat Alumni Association Dinner then the 213th Alumni Association Meeting.

Fr. May 10 Check-out

Due to health reasons, this may be the last Reunion for:

FOSTER SEXTON, President.

GEORGE HALEY,Treasurer.

MIKE BROWN, Unit Historian.

So please, if you want to attend a Reunion, this is the one. Please look at attached address book and call old friends and ask them to join you at this reunion. I don't know when the Alumni Association will have another one. The three of us would love to see everyone.

If you are planning to attend please send me a e-mail with your name and wife's name, cell phone number for you and your wife.

Unit Historian

A Black Cat from PHU-LOI

1966-67 FE on 021

Fort Knox OCS Reunion

Before Aviation became a branch unto itself, many Armor and Cavalry officers commissioned through Fort Knox OCS became pilots in the Vietnam War. We call ourselves Fort Knox OCS because the first dozen or so classes 1965-68 were branch immaterial, subsequently commissioned in Ordnance, TC and QM. We Armor/Cav guys don't want to
leave them out.
Ft. Knox OCS is having a reunion 3-5 June 2019 in Colorado Springs. We want to get the word out to our pilot brothers. I am the POC; my phone # is 719-481-3624. See also Facebook: Fort Knox OCS 65-68.

From: John C. Russell, LTC, USA (Ret) <johnnyboy80133@comcast.net>
Send information to the Webmaster to be posted here.