Last Man Standing
As a last man standing organization, the VHPA and its members are in our twilight years. As we prepare to "pull pitch" for the last time it is important that our legacy is well established. This is especially true because of the controversial nature of our war, the Vietnam War. The biased news media and so called peace movement versions of the war
Witness to War
Preserving oral histories of Combat Veterans. The VHPA is working with Martin Madert at http://www.witnesstowar.org to help preserve our legacy through your oral history. Please see details here.
Vietnam Archives Project
The VHPA has selected the Vietnam Center and Archives at Texas Tech University in Lubbock, TX as its official archives. Please consider making the VHPA Collection at Texas Tech the final resting place for your artifacts. Details are here.
Arlington National Cemetery monument
Monument: The Vietnam Helicopter Pilot and Crewmember Monument construction process nears completion. Granite Industries of Vermont (GIV) reports the monument is completed (see picture) and is on its way to Washington, DC. It is reasonable to expect delivery to Kline Memorials by December 1.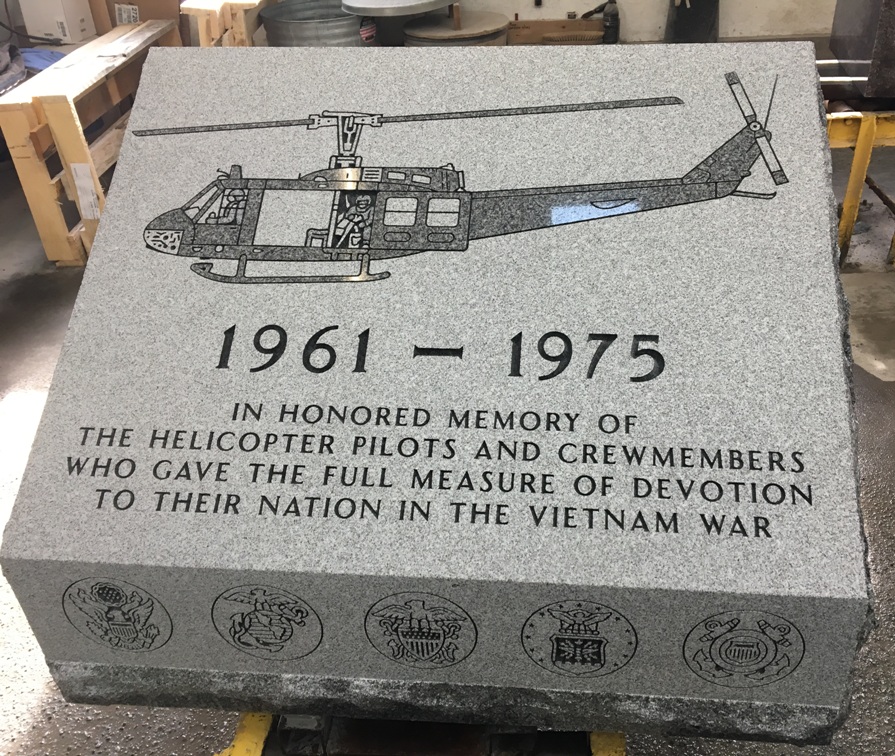 Installation Process: Frosty Price and Ron Markiewicz are working with Kline Memorials to prepare the site for installation. Kline submitted the required documents to ANC management, and still awaits response as to when they will be authorized to install the needed monument footer. The process moves slowly in ANC, but they do progress. Frosty is working with David Fedroff, ANC Deputy Chief of Engineering, to discover why Kline Monuments has not had a response regarding their application. As always, our vigilance and attention to detail will keep the installation process on track and complete well in advance of the April 18 dedication ceremony.

Dedication Planning: The dedication ceremony is reserved for the ANC Memorial Amphitheater at 4:00 PM, April 18, 2018. The amazing Carl McNair continues to provide sound advice and insights as to getting the most "bang for the buck" on our dedication day. He communicated our goals of having a sizable military flyby as part of the dedication event, as well as coordinated with Joint Base Myer-Henderson Hall for a post event reception. Additionally, he arranged for Quad-A to provide a generous donation to help cover the reception expenses; this donation, plus a contribution from the VHPA will provide appetizers, beverages, beer and wine for those attending.

Honor Guard, Music and Program: The request process for arranging the ceremonial honor guard, music, and other important elements will commence following Veteran's Day. It was suggested we delay the request process until after this demanding date is past, and then submit our requests before the honor coordinators begin to prepare for Memorial Day, 2018. That makes sense, so we have nine more days to relax before "ramping up" for the April ceremony. We will design the program document along the lines of what was created for the August, 2015 tree dedication ceremony. John Powell is working to create a front page cover logo appropriate for the event, and we will then arrange through VHPA/HQ to get the program published.

Dedication Ceremony Invitations: We have a great deal of work to do creating a list of those who should be invited to the ceremony. The list of congressional supporters, both elected and hardworking staff is long, and I will seek the assistance of Lauren Currie, Representative Amodei's outstanding staffperson, to ensure we have proper contact information (and to make sure no one is overlooked). We need to send invitations to some by email, some by snail mail, and some by both.

Guest Speaker: The current plan is to ask Secretary of Defense James Mattis to speak at the dedication ceremony. John Powell and will craft the request letter, the caveat being if the SECDEF cannot participate due to his demanding schedule, that he recommend a member of the JCS to speak in his place. As we USAF'rs like to repeat, "Aim High!"

Hotel accommodations: The VHPA Executive Council is working to provide a hotel for those who wish to attend from outside the local area. Stay tuned for details.

Media Contacts: We need to begin communicating to the military-oriented media in January to communicate the ceremony details. This will give publishers of paper products time to consider announcing the event to their readers at an early stage. As we get closer to the event, press releases will be sent out to television/cable/radio sources that may be interested in attending and reporting the ceremony.

Legacy Committee Dinner: It would be outstanding to join the committee together for dinner the night before the ceremony, April 17th. It will be a time of celebration and recognition that each of you truly deserve for your selfless effort to complete this important mission. Please plan to arrive in Washington in time to attend this function. More details will be provided as the plan evolves.



The final phase of this long process will commence within a few weeks, so enjoy the calm moments while you can. Please contact me with any questions you may have, and anticipate a conference call sometime before Thanksgiving.

All the best,


Bob Hesselbein, Chairman


Legacy Committee