Arlington National Cemetery monument
The Vietnam Helicopter Pilot and Crewmember Monument Dedication Ceremony was held at 4:00 PM, April 18, 2018 at the Arlington National Cemetery Memorial Amphitheater (located directly behind the Tomb of The Unknown Soldier). Approximately 3,400 people attended. For those unable to attend, the VHPA Legacy Committee was able to arrange C-SPAN coverage of the amphitheater portion of the event. The event will air on Sunday, May 6th at 11:00 a.m. on C-SPAN3's American History TV. The following are links to the dedication ceremony program, the Huey flyby and some articles and pictures related to the event:
Here is a map showing the location of the monument just South of the Memorial Amphitheater on the opposite end from the Tomb of the Unknown Soldier.
Huey fly-over at the dedication ceremony 18 April 2018.
Pictures from Bob Smith of the dedication: https://youtu.be/ePIvoDRQib8
Stars and Stripes article about the monument dedication.
Pictures from the Dedication from Steve Mandel.
From MilitaryTimes.com
https://www.facebook.com/phillips.nguyen.1/videos/10211916289679585/?t=3
https://www.facebook.com/johnal.skimbo/videos/10212430405775255/?t=3
https://www.airforcetimes.com/video/2018/04/19/interview-lt-col-bruce-ianacone-vietnam-helicopter-assault-pilot/
https://www.army.mil/article/204136/helicopter_pilots_crewmembers_memorialized_in_arlington_national_cemetery
https://www.stripes.com/dedication-of-helicopter-war-memorial-at-arlington-set-for-april-1.516060
https://www.armytimes.com/news/your-army/2018/04/20/fallen-vietnam-pilots-crew-members-honored-with-monument-at-arlington-national-cemetery/?utm_source=Facebook&utm_medium=Socialflow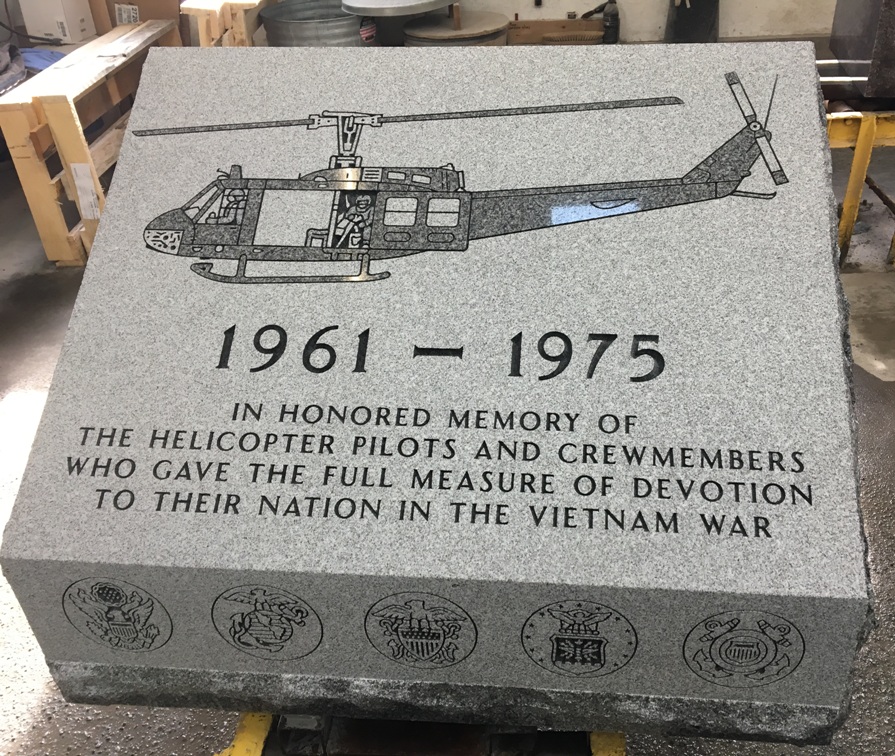 Last Man Standing
As a last man standing organization, the VHPA and its members are in our twilight years. As we prepare to "pull pitch" for the last time it is important that our legacy is well established. This is especially true because of the controversial nature of our war, the Vietnam War. The biased news media and so called peace movement versions of the war are not the same as our reality or what really happened. It is important that each of us provide our piece of history to counter the incorrect version of the Vietnam War.
Witness to War
Preserving oral histories of Combat Veterans. The VHPA is working with Martin Madert at http://www.witnesstowar.org to help preserve our legacy through your oral history. Please see details here.
Vietnam Archives Project
The VHPA has selected the Vietnam Center and Archives at Texas Tech University in Lubbock, TX as its official archives. Please consider making the VHPA Collection at Texas Tech the final resting place for your artifacts. Details are here.